Just a quick update today. Things are progressing well, and it's starting to look more like a game now than just a lot of parts stuck together. There's still a lot more to do, but it's getting there.
Anyway, here's a quick screen of how it looks so far: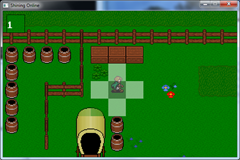 So far there's a scrolling map with front and back layers, transparency and full collision detection. Nothing too amazing, but it works, and that's the main thing at the moment.
The next step is getting some proper animation going, and then maybe some menus and things to investigate.
---